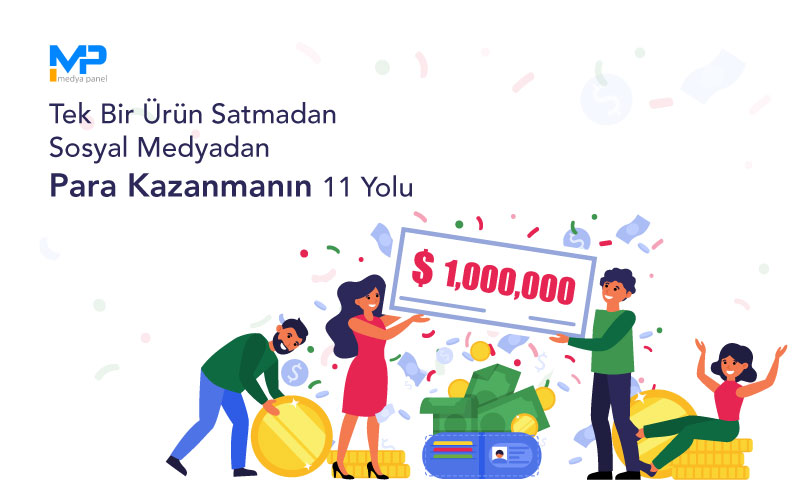 11 Ways to Monetize Social Media Without Selling a Single Product
Do you have a large number of social media followers? If so, would you like to learn how to monetize these followers?
Nowadays, there are many people who make money on social media without selling a single product. You've seen many profiles with tons of followers, even though they look quite normal. They usually seem to be either traveling or doing something fun. But what exactly do they do to financially support this fairytale lifestyle? These people are called social media influencers or social influencers.
Experts predict that over the next two years, worldwide influencer marketing will grow into a $5 to $10 billion industry.
In 2017, 86% of marketers used influencer marketing campaigns at least once during the year. And 39% of marketers said they increased their influencer marketing budget in 2018. If you're thinking about monetizing social media, this is all very good news for you. Even if you don't have many followers yet, this guide will show you how to make yourself more attractive to brands and marketers. Previously, we shared a guide on how to leverage small influencers to boost your brand's reputation.
Now we thought we'd put together an informative guide for people who are thinking about making money as an influencer.
Influencer marketing is definitely one of the most important marketing trends you should consider, and if you promote yourself correctly, you can make a lot of money from this industry. Here are 11 ways to monetize social media without having to sell any products.
1. Choose a Platform
Ultimately, you should have profiles on as many social media platforms as possible, but only one should be your main focus. Research shows that almost all social media influencers prefer Instagram.
In 2018, 82% of social media influencers said Instagram was their number one platform. This was followed by YouTube at 12% and Facebook at less than 2%.The biggest reason for this is probably because 76% of influencers said that Instagram offers the most successful tools compared to other social media platforms.Based on these numbers, we can advise that you should make Instagram your top priority.
There is no need to reinvent the wheel here. If other influencers are having great success on Instagram, you should follow in their footsteps.
You should use your other social profiles to strengthen your brand's image and reach a wider audience.
However, you can use Facebook and Twitter to increase your followers on Instagram.
2. Join Influencer Networks
Another way to monetize social media is to join networks built for influencers. These platforms match brands to the accounts people follow and their attributes. In this respect, Brandwatch can be a great start.
Let's assume that you have a lot of content on your social media profiles related to spiritual health and yoga. Your followers are definitely interested in this kind of content, which is the main reason why they follow you. If you join one of these networks, brands with products or services related to your content will be able to find you much more easily. If a brand is looking for an influencer to sell their new yoga mat or yoga apparel, they can find the perfect candidate through networks like this. You can conduct all your communication with brands through them. In this way, you can work more organized instead of messaging on social media. Once your number of followers has increased considerably, it will be quite challenging to deal with the messages in your inbox. We recently wrote an article about productive platforms for social media influencers, which was written for brands but will be very useful for influencers as well. You can check out the list we've shared here and find the one that best suits your needs and wants.
3. Increase Engagement Rates
The biggest reason why brands want to work with social media influencers is their high engagement rates. In fact, brands see engagement as the primary way to measure the success of their influencer marketing campaigns.
If you want to make yourself more attractive, you may want to show brands how high your engagement rates are with your followers.
Start by learning how to write a description to increase engagement. You want your followers to like, comment, tag, tag, watch and share your posts. And don't forget to respond to your followers. We know this can be quite a challenge, especially for our readers with tens of thousands of followers. But you should make it a habit to take the time to reply to your followers.
At the very least, if you can't reply, like their comments. Remember that this will be your business. If you want to make money from social media, you will need to set aside a certain amount of time every day to make yourself a more valuable influencer. If it was easy, everyone would be doing it.
Interacting with your followers helps them feel a personal connection between you and them. When you recommend a brand to them, they will take your suggestion into consideration, which will make your marketing campaign more successful.
4. Distribute Free Products
Everyone wants to get something for free. Make sweepstakes your top priority to increase engagement with your followers. Once you've started negotiating with brands and figuring out the type of content you're going to share, you can offer them a giveaway. Ultimately, the decision is entirely theirs. They are the ones paying for sponsored content. But you don't have to accept anything that doesn't make you feel comfortable. If you don't think the content they want you to share will make sense for your followers, you can politely decline their offer. After all, you don't want to lose face by sharing everything just because someone offers you an opportunity. Otherwise, you'll lose a lot of engagement from your followers. Take a look at this post by Instagram influencer Jen Selter:
Jen has over 12 million followers on Instagram. How do you get 12 million people's attention? Of course you shouldn't spam.
It's clear that the post is actually promoting a brand. But she's offering value to her followers and giving them a chance to win something for free. This post has all the elements to make a profitable giveaway. If you are still trying to increase your followers, organizing a giveaway can be the best way to do it, even if you don't have any sponsors yet. Spending 100 lira out of your pocket for a gift voucher and raffling it off to your users will be worth it. Then you can take a step further in your influencer career and show brands how successful your engagement rates are.
5. Use Simple Hashtags
If you are trying to monetize social media, you should not hesitate to use hashtags. But don't use just one hashtag per post.
Research shows that using multiple hashtags helps you get higher engagement rates.
The magic number here is seven. Posts with seven hashtags have the highest engagement rates. But that doesn't mean you can go overboard. Using more than seven hashtags in a single post can be considered spammy. Use a wide variety of hashtags. Some of these can be very broad hashtags and appeal to a wider audience. For example, #tbt is a popular hashtag used on social media. This way, your post will reach millions of people. But you don't want to get lost in the shuffle. Come up with unique and more specialized hashtags for each campaign. For example, if we go back to the giveaway example, Jen uses a hashtag #JenSelterGIVEAWAY in every giveaway post. Giveaway is the English word for raffle.
6. Partner with a Mobile App
We often see social media influencers partnering with brands in the same genre. They promote clothing, sports products, accessories and food.
While there is nothing wrong with this strategy, it is not sustainable for long-term growth. If your per-post rates start to increase over time, these brands will feel they've had enough of you and will drop you and start working with other influencers.
Think outside the box and partner with different brands, such as mobile apps. This is the strategy of social media influencer Eric Rubens:
Eric has more than 380 thousand followers on Instagram. If you look at his bio, he promotes different things as part of the image of his personal brand. You can also see his YouTube username and the link to his website. But look at the area we have highlighted in red. It shows his partnership with a new mobile app called Explorest. The business model that this app has adopted is quite unique. It guides its users to places where they can take cool photos.
This idea is also in line with Eric's personal image. If you take a look at his profile, you'll see that he takes great photos in different parts of the world. Undoubtedly, his followers are also interested in this kind of content. That's why he saw an opportunity to build a successful partnership with a mobile app like Explorest and took it.
7. Find Your Category
It's tempting for new influencers to accept any deal that offers them the opportunity to make money. But it's important to remember that the posts you share will affect your future. You don't want to partner with brands that contradict your core values and beliefs, and you should analyze how this content will affect your followers and how you will be perceived by other brands in the future. To better illustrate what we're talking about, let's take a look at this example. Here is the Instagram bio of James Tollefson:
James has 23 thousand followers, which makes him a great micro-phenomenon. Even if, as in the previous example, his bio doesn't promote anything yet, it gives us some insight into his life and who he is. He is a software engineer, lives in San Diego and is interested in fitness. There is a big difference between saying you are into fitness and actually being into fitness. Let's take a look at the photos he shared with us and see if they match his description.
As you can see, the content is definitely in line with his bio. James shares content about his own fitness journey and promotes products related to this category. If you join a community of brands and influencers, you want to make sure your content is aligned with your area of expertise.
Don't say you're a foodie in your bio and never share food or collaborations with brands in the industry. It won't make sense and it won't make you any money.
8. Know Your Worth
Research shows that 80% of influencers say sponsored content is their main source of income. This is a much higher percentage than advertising and affiliate links. Only 33% of influencers actually sign an agreement with their sponsors. You need to make sure you protect yourself and get paid for your work. Don't just post content for brands that offer to send you free products. If you want to make money in this industry, this is not enough. As you can see from the graph below, marketers are planning to increase their marketing budgets for influencers.
Only 5% of marketers say they would reduce their influencer marketing budget. There are plenty of opportunities to make money in the industry and you just need to take the right steps. Don't work for anyone for free. So, how much is a post worth? The numbers will vary depending on the number of followers you have and your engagement rates. On average, 60% of businesses pay less than 2000 pounds per post and 27% pay between 2000 and 8000 pounds. Only 4% pay more than 25000 pounds per post. Unless you're a celebrity, you probably won't earn 25000 liras per post. But that doesn't mean you can't aim for pricing between 2000 and 8000 liras. Let's say you start posting two sponsored posts for two different brands every week. One of them pays 2000 lira and the other pays 6000 lira. If you continue to get paid around these figures regularly, you can earn an average of 400,000 liras at the end of the year.
9. Share High Quality Photos
Look again at all the examples we have shared with you before. What do they all have in common? High quality content.
If you want to become a social media influencer, you have to make sure that the photos you share are of high quality.
If necessary, buy a professional camera or at least a new smartphone that will help you take better photos.
Invest in yourself. As you can see in the example of partnering with a mobile app, taking high-quality photos will open the door to bigger opportunities. Take a look at Albert Hongbo Yang's Instagram profile:
The photos he shares are breathtaking. Albert has 24,000 followers who are interested in his photos, which is a significant advantage when it comes to working with brands. Even if you don't want to sell products on Instagram, if your photos are good enough, you can make money as a photographer. Sharing photos that attract attention will help you build your own authority. If you need more detailed help with this, check out our guide on how to take and edit photos without hiring a professional.
10. Clearly Identify Your Relationships with Brands
Another requirement of being a social media influencer is the need to be clear about your relationships with brands. First of all, you don't want to mislead your followers or lose their trust in you. That would not be the right behavior. But more importantly, this is a requirement mandated by many legal regulations. Most legal requirements dictate that when a product is advertised, it must be done in a clear and unambiguous way. You shouldn't use confusing hashtags like #thanks or #cooperation, which can cause misunderstanding. At the same time, you can't rely on notifications or announcements about it on welcome pages that people click through to. Anastasia Ashley's post is a good example of how to properly communicate your relationships:
Anastasia is promoting La Roche-Posay skincare products. As you can see, she explicitly tags the brand in the description of her post and uses the hashtag #sponsored to explain her association with the brand. There is absolutely nothing confusing about this. Her post and her relationship are compliant with most legal regulations.
11. Promote Your Services
Even if you want to make money on social media without selling products, you can sell your services if you want to.
We've already talked about how you can make money by taking high-quality photos and then using those photos to make more money. This is one way to make money, and there are many other ways you can choose. For example, let's take a look at Rob Atkin's Instagram profile.
Rob promotes his own website in his biography. He is clearly a personal trainer. But the way he presents his services is certainly much more creative than just saying that he is a personal trainer. Instead of just saying it, he uses creative phrases to promote his services, such as "I help busy people get abs" and "fitness expert". As you can see from their posts, their content also fits into this category, which, as we mentioned earlier, is very important. If you want to make money on social media without selling any products, you can also use these platforms as an advertising tool to reach more people with your services.
Conclusion
Today, there are many ways and opportunities to make money on social media. People can earn quite good numbers without even needing to sell a single product. Especially our readers who have a lot of followers can make money through brands using their profiles.
Even if you don't have a lot of followers right now, you can increase your number of followers and engagement rates and make yourself more attractive to potential customers.
If you follow the tips and tricks we've shared in this guide, you can easily turn your social media profile into a money-making machine.